18 - Gerber daisies that I picked up while grocery shopping. Ray over at Pulling My Mask Off picked this photo as one of two finalists in her weekly photography contest. I'd love it if you'd go vote for me. :) This week's challenge is "Indoors" if you'd like to participate.
19 - Some mandarin oranges we bought. The kids love them! Alex calls them lemontimes (aka clementines). Audrey at The Daily Wyatt picked this as one of her Top 5 this week. Thanks Audrey!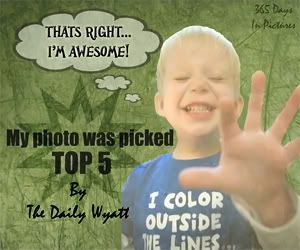 20 - The Canine Ambassadors visited preschool. Alex loved all 3 dogs - two golden retrievers and one scotty dog.
21 - Keira at the Creation Museum. We left Thursday afternoon for Kentucky, spent all day Friday at the museum, then headed home Saturday. I'm beat after all that traveling (and lack of sleep) which is why my summary isn't getting posted until today.
22 - One of the dinosaur exhibits at the Creation Museum.
23 - A suspension bridge we crossed on the way home.
Hope you all had a wonderful week!